All-in-one Cluster started its journey in 2021, and since its inception, it has already managed to secure amazing achievements. The company has established a reputation as one of the best destinations for getting high-quality mobile app development services. 
Due to this reputation, startups, mid-scale, and even large-scale companies are showing keen interest in partnering with All-in-one Cluster to build high-quality mobile apps that drive and inspire growth.
Whether you want to target the Asian market or you want to expand your business in Europe, experts at All-in-one Cluster are well-versed with a diverse range of experience to help you research, plan, design, and develop apps of amazing potential and that too, within reasonable budgets and unbelievably fast deadlines. 
How does getting recognized by MobileAppDaily benefit All-in-one Cluster?
MobileAppDaily is a favorite tech blog of a massive number of IT professionals, CEOs, CFOs, CTOs, entrepreneurs, students, and more. These readers visit the platform to keep up with the evolving tech trends from across the globe. 
Not only that, but MobileAppDaily experts also keep an eye on the global IT market to find and list top IT companies and apps under their respective categories like top healthcare companies, top IoT apps, etc. 
These reports are helpful for company owners or app developers to connect with potential clients or users. From the perspective of clients and users, they get a trustworthy source of information which saves them from having to dive into the long process of researching and verifying companies themselves.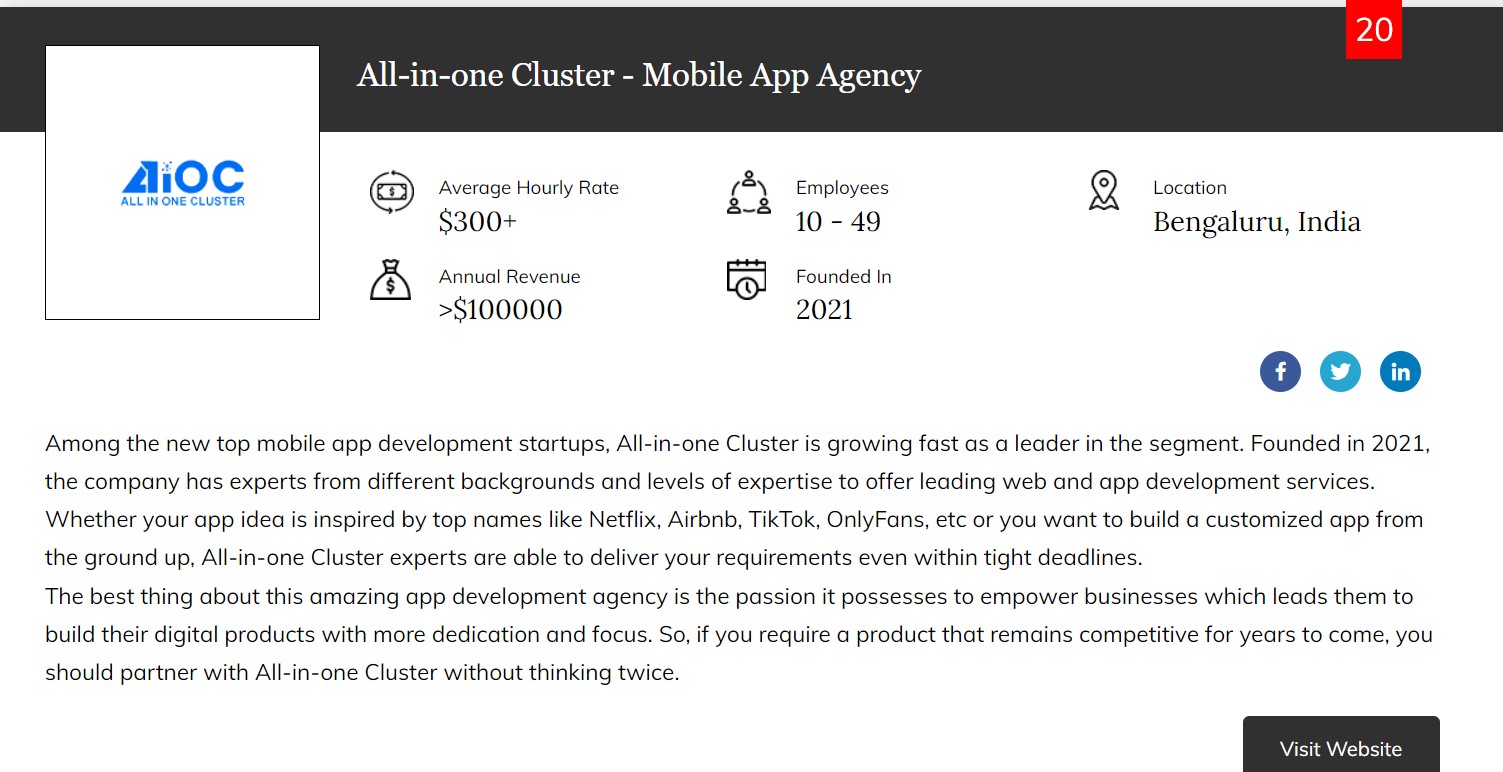 Now, for All-in-one Cluster, getting enlisted in MobileAppDaily's Best 100+ Mobile App Development Companies is a boost that motivates the organization and its people. This achievement comes as a sign that we are on the right track to making All-in-one Cluster a leading global brand. 
As MobileAppDaily drives massive digital traffic regularly on its platform, getting ranked on one of its reports opens up an opportunity for the All-in-one Cluster to be visible to the potential clients hidden among the audience of MobileAppDaily. For the organization, it can lead to many new partnerships and further growth in the future.