VR meeting platform is in high demand for all corporate organizations. It enables users to create content and improve work using interactive tools. Tools like 3D models, 3D pointers, and magic pointers are used for this. Thus, it is a built-and-used platform. Virtual conferences, seminars, and meetings are just a few uses for the VR meeting platform.
VR applications gather data before doing video conferences. This ushers in a new period known as the corporate. Additionally, a video call is used to create a special environment. Despite a virtual handshake, the VR meeting platform aids users in maintaining connections by bringing them closer. The team will work more cohesively and actively. Meetings and workshops are the platform's main uses.
About Virtual Meeting Platform For Business: 
Virtual meetings demand more preparation and practice beforehand. To combine content and screen sharing hand-offs, assign roles and responsibilities, demands talent, assurance, and expertise. It can be difficult to see everyone's body language and facial expressions during virtual meetings because the presentation takes up the majority of the screen. Also when someone is speaking or if your conferencing platform, then the number of people that are watched simultaneously.
Workshops are designed to provide an environment that is exciting for engaging sessions or workshops that will soar to new heights. We encourage participants' creativity with the exceptional and one-of-a-kind arrangement we offer. Participants' inventiveness is fostered by this. In fact, these virtual offices are furnished with everything personnel would require for effective work.
Advantages of Virtual Meeting Platforms: 
The users of virtual conference rooms can benefit from a variety of benefits. The key factor in their popularity and the expansion of virtual meeting software is these benefits. 
Extremely Cost-Effective:

Business meetings that are conducted virtually or online do not require any additional expenses. They make it possible for people to connect online, which lowers the cost of lodging, travel, and even food. Hence using video conferencing software as often as necessary for a little price is frequently paid on an annual basis.

Cut Down on Time Wasted:

A lot of time is lost when a business meeting that calls for physical presence is scheduled. Traveling or bringing individuals together in one space is a waste of time. Time is also lost when you must submit data repeatedly or wait for a response to an email. Hence Virtual meeting spaces do away with everything. 

Allows Everyone on The Same Page:

It is simple for them to have the same quantity of information as everyone can access to the internet material. Another feature offered by conference apps is the ability for attendees to simply watch the video recording of a meeting.
A fantastic suggestion is to invest in a video chat program like Zoom. You need to know how to make such an app if you want to flourish in this market. Let's understand how to build the same!!

Steps Involved To Build Virtual Meeting Platform For Business: 
An app like Zoom which is known to be one of the best Virtual Conferencing platforms for business works successfully with factors like needs powerful study, persistence, time, and smart planning. 
A Good Idea And Market Study:

To build a video chat app a thorough market analysis is required. This requires Investigating the strategies of potential rivals and your proposal's market viability. The idea should be such that it targets the audience and then develop app. 

Interesting Video Chat App Designs:

An outstanding user interface and experience design are essential when creating an app targeting millennials. This makes sure to use vibrant colors and appealing designs. Additionally, if you want to attract businesses with this app, utilize calm colors and keep it understated.

Back-End Development:

The backend development of an app includes the database, web server, and app server. It is considered to be the foundation of the app development process which establishes the foundation of the backend. Scalability is also required. 

Technology Stack:

You have a variety of options when introducing a single platform app, such as Objective-C and Swift for iOS app development versus Kotlin and Java. This is for Android app development. 

Testing Your App:

The creation of a video chat app must include testing as a critical step. Prior to making your video conferencing app available, you should focus on testing it and making it bug-free.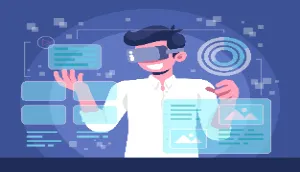 Conclusion:
The features and functions of Virtual meeting platforms like Zoom improve in various areas where open-source technology makes the building process of app development. These platforms are built to communicate effectively in real-time. Also, these video conferencing app already works on a blueprint that is provided to make a successful video conferencing app.